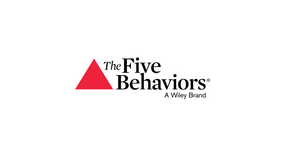 The Five Behaviors®
---
Why participate in a team development assessment?
Using team development assessments will help individual team members understand how their own personality style and the styles of their team members contribute to the team's overall success. Productive, high-functioning teams make more effective and efficient decisions, while avoiding confusion and destructive conflicts.  
Why take the The Five Behaviors® assessment?
The Five Behaviors® is an assessment-based learning experience - based on the Everything DiSC® model - that helps people discover what is required to have a high-performing team. Taking into consideration personalities and preferences to develop a cohesive, productive team takes work, but the payoff can be huge—for your people, the team, and the organization.
Is the The Five Behaviors® recognized?
The Five Behaviors® profile system is based on The Five Dysfunctions of a Team by Patrick Lencioni, author of the Five Dysfunctions of a Team, which has sold over three million copies and continues to be a fixture on national best-seller lists week after week. Used by nearly half of a million people, no single product has helped transform the landscape of teamwork and change the world of work more. 
Is The Five Behaviors® right for us?

If you are looking to overcome team dysfunction and realize your team's full potential, this is the perfect starting place.  The team profile in the Five Behaviors® assessment helps team members know how they and their team are doing, and how they can become more cohesive.  The characteristics of a cohesive team are Trust, Conflict, Commitment, Accountability, and Results. Each behavior in the model builds upon the previous and supports the others.
Further, because the assessment is based on Everything DiSC®, you and your team will improve self awareness, understand each other better, work together more effectively, and improve your relationships.  All of this will be explained to you in simple to understand terms by you coach or training facilitator.