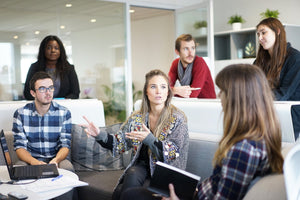 PURCHASE GROUP COACHING SERVICES
---
Coaching Ottawa Group Coaching sessions are held for groups of 6 to 12 individuals. These sessions last approximately two hours and focus on a topic agreed to in advance. These sessions can be held in person or virtually.
Why should I consider group coaching?
Group coaching offers many of the same benefits as individual coaching, and fosters peer consultation and collaboration among the participants, creating more of a team dynamic. Group coaching will help:

Inspire creative thinking
Decrease dependence on experts
Develop emotional Intelligence
Enhance personal flexibility and adaptability

Drive learning and personal development

Group coaching is best suited to developing a personal understanding on general topics, such as leadership, career development or relationships. Group coaching will allow participants to explore and consider complex scenarios and to discover solutions that are not immediately apparent. Together group coaching members will explore multiple interpretations and consequences to clarify the root causes of issues and effects, as well as numerous solutions.
Group coaching is an amazing and cost-effective tool for addressing such considerations. However, it must be appreciated that individual coaching is better suited for developing personal plans and exploring unique situations that may be uncomfortable to discuss in a group setting.