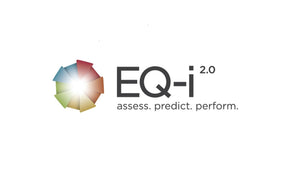 EQ-i 2.0® - The Emotional Quotient Inventory
---
Why take a Emotional Intelligence assessment?
Emotional intelligence competencies are essential for effectively building relationships, resolving conflict, solving problems, leading others and becoming more resilient. They provide you with insights into your strengths and development opportunities. 
Why take the EQ-i 2.0® assessment?
The EQ-i 2.0® assessment includes a comprehensive report demonstrating the degree to which you have developed your EQ competencies and how they all impact each other and contribute to your overall emotional intelligence. Further, the report makes suggestions for further developing and balancing your EQ competencies.
Is the  EQ-i 2.0® recognized?
The Emotional Quotient Inventory (EQ-i 2.0®) is one of the world's leading measures of emotional intelligence, applying decades of research to support effective human performance and development. 
Is the EQ-i 2.0® right for me?
EQ-i 2.0® can help you raise your self awareness, interact more effectively with others, improve your decision making and help you to become more resilient.  All of this will be explained to you in simple to understand terms by you coach or training facilitator.